<< Back to Calendar
Making a Difference: The Entrepreneurial Project Management Mindset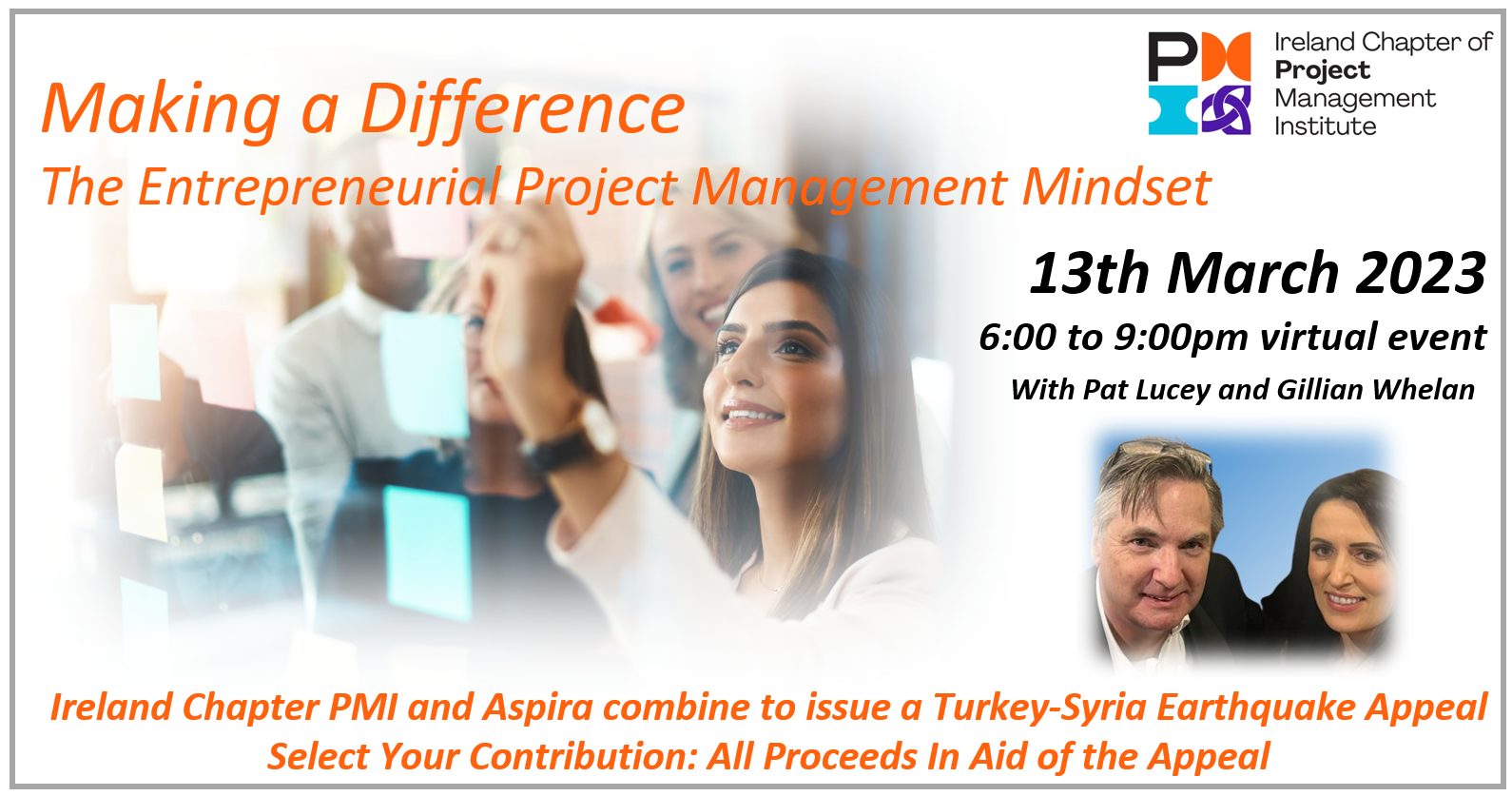 Ireland Chapter PMI and Aspira combine to issue a Turkey-Syria Earthquake Appeal. A 7.8 magnitude earthquake has struck Turkey and Syria causing widespread damage and devastation. Buildings collapsed as families slept, leaving tens of thousands dead and injured. Children are injured, in shock and traumatised. They need urgent help. As human beings we want to reach out to help. As Project Management professionals we know the importance of making the right resources available at the right time.
The Ireland Chapter of PMI and Aspira have come together to run a unique fund-raising initiative – and we need your help. We have planned a 3 hr Entrepreneurial Project Management training program, which has bene donated free of charge by Aspira (an ATP approved PM training provider) , and will be co-delivered by Aspira co-founder and Entrepreneur Pat Lucey, and Aspira Chief Commercial Officer Gillian Whelan.
This program will be delivered virtually, so it is very easy to participate. To sign up, we are asking people to offer a contribution €50,€100,€200 or €500 – the proceeds collected will be donated to help those impacted by the earthquake in Turkey and Syria. The training program delivers 3.5 PDUs and explores some very interesting topics on how Project Managers can adopt some positive traits to become Entrepreneurial Project managers (EPMs) – one of the hottest trends in Project Management. Attendance at this special training session is open to everyone so you don't need to be a member of PMI to attend.
For registration:  https://pmi-ireland.org/calendar/calendar/virtual-event/making-a-difference-the-entrepreneurial-project-management-mindset