The Benefits of Partnership
The PMI Netherlands Chapter organizes regular activities to assist our members in advancing in their career, improve organizational success, and further mature the profession of project management through our globally recognized standards, certifications, resources, tools, academic research, publications, professional development courses, and networking opportunities.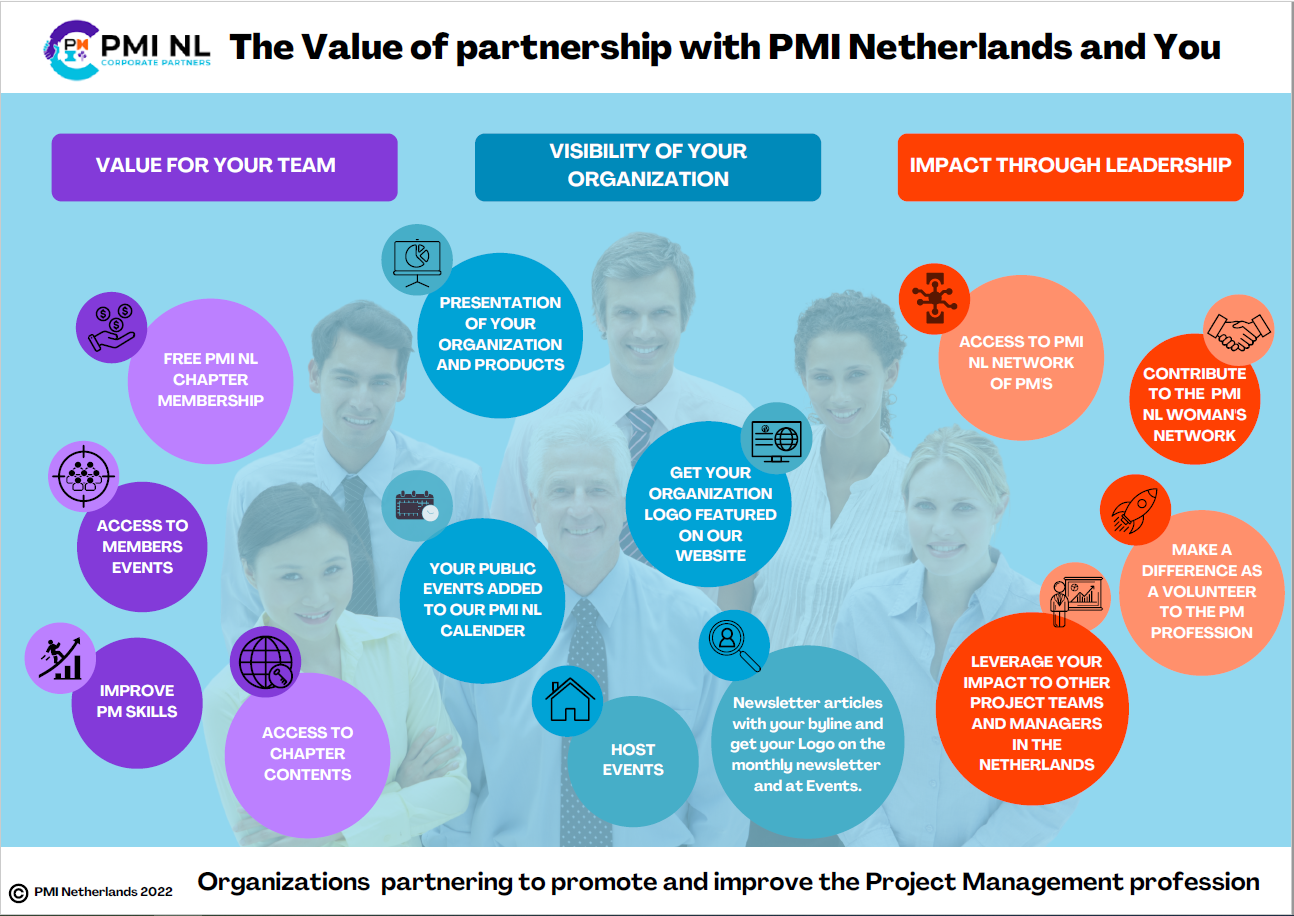 The Chapter volunteering members manage these activities, and we welcome organizations and companies to take part in our mission to further develop Project Management in the Dutch marketplace.
Our Partnership program for organizations (both Dutch and International) is an excellent opportunity to build a lasting bond with our PMI Chapter. As a Chapter Partner, your organization can support the members in many ways including financial contributions. 
In return, the Chapter offers you a visible presence via our various communication channels and at our PMI NL events. We provide opportunities for your organization to strengthen the PM community and build the skills of your employees. We offer group membership for your employees to provide them with full access to all Chapter member benefits. As part of our commitment to the workforce of the future, our goal is to inspire project managers to grow their skills, knowledge and capabilities.  We also offer ways for employee members to volunteer with our social good initiatives and more.  
Partner Benefits
Free PMI NL membership to your Employees (membership numbers are based on Partnership Levels)

Your Logo on our Chapter Website and Event Banners

Opportunities to present your company and products at Chapter events

Hosting live Chapter events at your site, to promote your company as a preferred employer

Publication of your public Corporate Events in our online Chapter Calendar

Access to the Dutch PMI network of Project Managers

Access to promotion of our Partnership, including use of the PMI Logo, indicating your commitment to the world's largest Project Management association
How you can support us
PMI NL Chapter Partnership (Bronze, Silver, Gold levels)

Specific contributions toward PM Content, Member Activities, and Events

Financial sponsorship for specific Programs

Interested? Please contact us at partnership@pmi-nl.nl