Professional Accountants in Europe (Netherlands)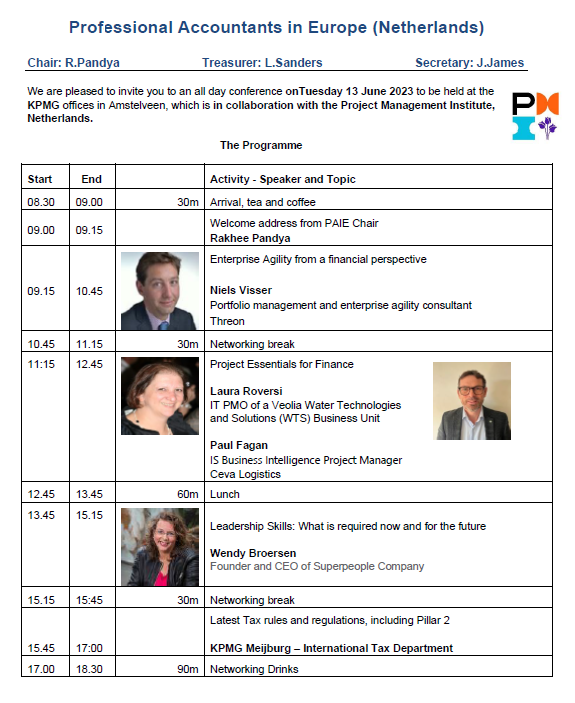 Practical information
How to register and pay:
The cost of attendance is €80 per person, with a maximum of 2 tickets per person, should you wish to bring a guest.

If you do not yet have an account in our webshop, you must open one here: http://www.paie.nl/Shop .

Then as a new or existing account holder you need to "buy a ticket" to the event (two tickets if you are bringing a guest), described as the "13 June 2023 Technical Meeting" – again via the webshop – using iDeal at the checkout.
If you register a guest, please let our Secretary, Jo James, know your guest's name by separate email to secretary@paie.nl . In addition, if you (or your guest) have special dietary requirements, please also let our Secretary know by separate email.

Venue and how to get there

The event will be held at the offices of KPMG at Laan van Langerhuize 1, 1186 DS Amstelveen

If coming by car: Free onsite parking will be available (further details to follow).
If coming by public transport:
From Amsterdam Zuid take tram 25 to Ouderkerkerlaan.
From Schiphol Airport take the bus number 356 in the direction of Bijlmer Arena to Laan van Langerhuize

From Amsterdam Bijlmer Arena take the bus number 356 in the direction of Haarlem to Laan van Langerhuize.
CPD:
After the meeting, we will provide all ACCA attendees with a written confirmation of their attendance. Other attendees can also obtain a confirmation upon request.
We look forward to seeing many of you on 13 June.
It is not possible to register for this event