How much will it cost? How long will it take? - A Deep Dive into Disciplined Agile Estimation Techniques and Activities.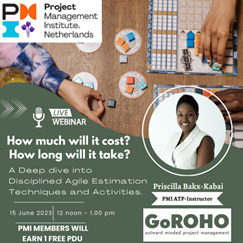 Within the Disciplined Agile Journey, PMINLCH continues to organize a series of events on the Disciplined Agile topic in 2023.
We are happy to kick off the partnership between PMINLCH and PMI ATP-I Go ROHO on Disciplined Agile, which was recently signed with a talk about Agile Estimation Techniques and Activities using the Disciplined Agile toolkit.
Imagine this scenario: Sally has just finished the third iteration of her architectural analytics platform. The team has a large product backlog supported by several user stories. Sally's team is in the process of planning for the next sprint and finalizing the prioritization of the product backlog. They identified several user stories for the next iteration and assigned weighted values. Sally has been asked by the board of directors to provide an estimated time and cost to completion for the next iteration. What technique would be best?
Every day, we make decisions based on estimates. Is accurate project estimation an art or a science? Fiction or reality? Ask different people, and you'll get different answers. During this webinar, we will explore the DA toolkit to understand some of our options for deriving our project estimates. Understanding the trade-offs associated with the various strategies will help you and your team to figure out your preferred Way of Working and continuously strive for improvements.
The bottom line is this: Estimation techniques will always involve some guesswork and assumptions. Estimation is neither an art nor a science; it depends on both. The key to estimation is in knowing How, How Much, and When to trust your experience and gut when finalizing a project estimate.
About the Speaker: Priscilla Bakx-Kabai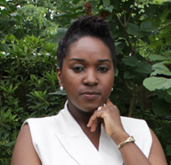 Priscilla is passionate about people and projects. She helps project professionals become great by providing training and coaching in hard and soft skills founded on a People First Mindset. Priscilla is an Authorized Training Partner Instructor (ATP-I) of the Project Management Institute, a PMO Consultant, and a certified Mindset Coach and Change Facilitator by The Arbinger Institute. Her professional vision is captured in the name of her company,  Go ROHO, which stands for Go Reach One Help One. Three words that best describe Priscilla's way of working are Engagement, Communication, and Teamwork.
It is no longer possible to register for this event