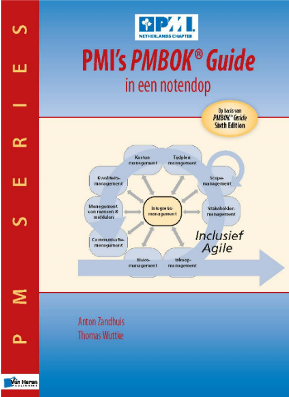 Publisher: Van Haren Publishing
Pages: 202 | dutch | Tweede druk, eerste oplage
hardcopy: 9789401804967
eBook: 9789401804974
ePub: 9789401804981
Als je de PMBOK® Guide al kent, zal de titel van dit boek al aan je verwachtingen voldoen. Maar als je nog niet eerder hebt gehoord van de PMBOK® Guide: de PMBOK® Guide (A Guide to the Project management Body of Knowledge) is erkend als de wereldwijde standaard in project management. Dit wordt bevestigd door het feit dat er meer dan zes miljoen exemplaren in omloop zijn, te beginnen met de eerste editie van 1987 tot versie 6, die in 2017 werd gepubliceerd.
Deze 6e editie integreert ook agile concepten, aangezien deze tegenwoordig een belangrijk onderdeel zijn van onze projectomgevingen. De "Guide" is echter vrij uitgebreid in zijn oorspronkelijke vorm en daarom bieden we met deze pocket-editie een meer toegankelijke en verkorte versie aan om het voor een breder publiek gemakkelijker te maken deze te verkennen. Het echt nieuwe aan deze zesde editie in vergelijking met eerdere uitgaven is dat, naast enkele kleine updates, elk PM-aspect - het kennisgebied genoemd - nu een sectie bevat getiteld 'Benaderingen van Agile en adaptieve omgevingen" die beschrijft hoe deze praktijken kunnen worden aangepaste en geïntegreerd in je eigen projecten. Daarnaast wordt meer waarde gehecht aan de strategische en zakelijke kennis van een projectmanager - inclusief de bespreking van de meer strategische documenten "Business Case" en "Benefit Management Plan" - die de drijfveer vormen van onze projecten.
Op organisatiebreed niveau ondersteunt de PMBOK Guide ® een gestructureerde en goed gecoördineerde aanpak voor de levenscyclus van een project en zorgt ervoor dat alle stakeholders dezelfde taal spreken. Het zal de praktische toepassing van project­management­processen verbeteren als ze door iedereen consistent worden begrepen en toegepast.
Dit pocketboekje is vooral nuttig voor projectopdrachtgevers (sponsors), projectmanagers / leiders en projectteamleden, aangezien dit de drie belangrijkste rollen zijn die hier worden onderscheiden.
Het boek is ook handig voor het ondersteunen van projectrollen (bijvoorbeeld voor leden van een projectmanagementbureau (PMO)). Het ondersteunt alle stakeholders op twee manieren:
Beter begrip van hun rol in projecten op basis van best practices in projectmanagement;
Een organisatiebrede aanpak voor verbetering van
De PMBOK® Guide is afgestemd op de ISO-norm ISO 21500:2012, Richtlijnen voor projectmanagement, de internationale projectmanagementstandaard die is ontwikkeld door de International Organization for Standardization, evenals de ANSI-standaard ANSI/PMI 99-001-2017, The Standard for Project Management, uitgegeven door het American National Standards Institute.
Kortom: een beknopte beschrijving van de PMBOK Guide®, en nuttig voor iedereen die een rol speelt in projecten.