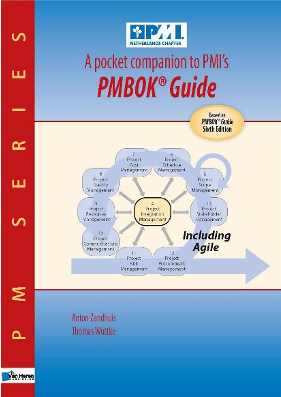 Publisher: Van Haren Publishing
Pages: 169 | english | 1
hardcopy: 9789401801102
eBook: 9789401801119
ePub: 9789401804707
If you are already familiar with the PMBOK® Guide, the title of this book will already meet your expectations. If you haven't met the PMBOK® Guide yet: The PMBOK® Guide (A Guide to the Project Management Body of Knowledge) is recognized as the worldwide standard in project management. This is confirmed by the fact that more than six million copies are in circulation, starting with the first edition from 1987 to the sixth edition, which was published in 2017.
This sixth edition also integrates agile practices, as these are an important part of our project environments today. However, the "Guide" is quite extensive in its original form, and for this reason we are offering a more accessible and shortened version with this paperback edition in order to make it easier for a broader audience to access it. The really new thing about this sixth edition compared to previous editions is that, in addition to a few minor updates, each project management practice - called the knowledge area - now includes a section titled Approaches to Agile and Adaptive Environments that describes how both these practices can be integrated in your projects. In addition, more value is placed on the strategic and business knowledge of a project manager - including the discussion of the more strategic documents "Business Case" and "Benefit Management Plan" - which drive our projects forward.
On organizational level, the PMBOK® Guide supports a structured and well-coordinated approach for a project life cycle and ensures that all stakeholders speak the same language. It will improve the practical application of project management processes in predictive, agile and hybrid environments if they are now understood and used consistently by everyone.
This paperback is particularly useful for project clients (sponsors), project managers / leaders and project team members as these are the three key roles that are differentiated here.
The book is also useful for supporting project roles, for example, for members of a project management office (PMO). It supports all project participants in two ways:
Better understanding of their role in projects based on best practices in project management;
Improve an organization-wide project management approach.
The PMBOK® Guide is aligned with the ISO standard ISO 21500:2012 Guidelines for project management, the international project management standard developed by the International Organization for Standardization, as well as the ANSI standard ANSI / PMI 99-001-2017, The Standard for Project Management, published by the American National Standards Institute.
In short: a compact but complete summary of the PMBOK® Guide, for everyone involved in project management in predictive, agile and hybrid environments.