<< Back to Calendar
PM4TheWorld Charity Conference 24 Hours Virtual - Together We Can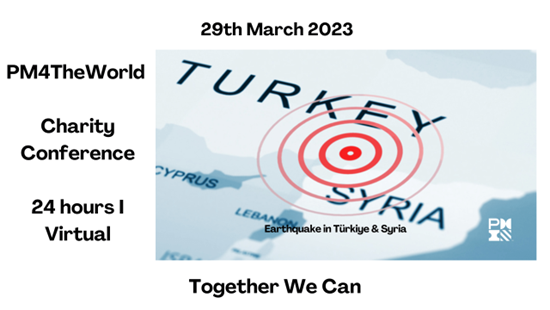 Join us on 29th-30th March 2023 for our 24-hour charity conference, focusing on Türkiye-Syria earthquake relief. 
An event to raise awareness, Learn, Build Global Networks, and Support those affected by the 6 February Earthquake.  
We will kick off this event from 7 am UTC to 7 pm UTC (GMT) With an opening panel led by PMI members in Turkey and speakers covering topics. The unique event will focus on 4 Geographic and Timezones with speakers addressing the concerns that face us all in these turbulent times. Information that can help us cope when disaster strikes, whether at home or across the world. And understand how we can impact the world for good. You will hear from PMI and other Keynote speakers covering topics such as: 
How Relief Projects address disasters
Building project skills can improve our agility and adaptability in Chaotic times
The Power of tools and processes to support disaster relief
Why philanthropy and business need to team up in times of distress
This event is open to all and will include PDUs for PMP Certified attendees.
PM4TheWorld is an international volunteer network founded by a group of professionals who care about the world and the people living in it. We aim to help those affected by disasters, whether man-made or natural, regardless of their race, culture, or religion. 
Our mission is to initiate, back, and promote events supporting families impacted by ongoing or unique situations in partnership with not-for-profit organizations that share our objectives.
Register here: https://hopin.com/events/pm4theworld2903
Find out more here: https://www.linkedin.com/events/pm4theworld24-hourcharityconfer7039920859985104896/comments/

Donate here: https://geef-nu.giro555.nl/aardbeving/
PMI Hours for Impact-  Make your Pledge now: https://www.pmi.org/hours-for-impact/