<< Back to Calendar
PMINLCH Webinar: Embedding a Culture of Continuous Improvement
Strategic Business Management skills
This webinar is being brough to you in partnership with Oikocredit International.
As a social impact investor, Oikocredit plays by a different rulebook. Through improving their processes and services, Oikocredit aims to improve the quality of life of low-income people or communities. During this webinar, Oikocredit aims to share their journey of embedding a culture of continuous improvement, showing you what challenges they have faced and how their cultural approach has helped them to overcome the challenges.
Are you interested in embedding a continuous improvement culture in your organisation? Join this webinar and get ready to learn and share good practice!
The event is free of charge and open to anyone interested. 1 PDU will be earned for attending. 
Please register for the event before the 6th of August to reserve your spot.
Agenda:
1930 – 1935 Welcome & housekeeping tips
1935 – 1940 PMINL Chapter updates
1940 – 1945 Keynote session introduction
1945 – 2040 Keynote session "Embedding a Culture of Continuous Improvement"
2040 – 2055 Q&A session
2055 – 2100 Wrap-up and closing
---
About the Keynote Speakers:
Mario Brazzoli - Transformation Manager Oikocredit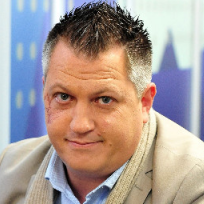 Mario has over 15 years of HR and Transformation experience, ranging from strategic transformation to specialised work in various centres of excellence.
Previously, he has held positions at ABSA Group Ltd and Mobile Telephone Network (MTN) Group, and was awarded the 2016 Institute for People Management HR Practitioner of the Year Excellence Award.
Marcel Jongejan - Transformation Officer

As a Black Belt, Marcel has been involved in the continuous improvement journey of Oikocredit from the very start. Passionate about corporate entrepreneurship, business model innovation
and operational excellence, Marcel is the go-to-contact point for continuous improvement in Oikocredit and helps guide teams through their continuous improvement journey on a daily basis.
---
It is no longer possible to register for this event