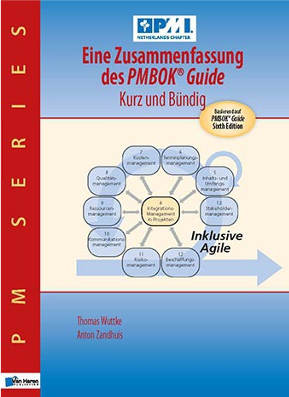 Publisher: Van Haren Publishing
Publishing date: Sept. 24, 2019
Pages: 204 | German | Third edition, first edition
hardcopy: 9789401804936
eBook: 9789401804943
ePub: 9789401804950
Based on the success of "A summary of the PMBOK® Guide - in a nutshell" in the fifth edition, a new edition has been written, which is now completely coordinated with the sixth edition of the PMBOK® Guide (2017).
If you are already familiar with the PMBOK® Guide, the title of this book will already meet your expectations. If you haven't met the PMBOK® Guide yet: The PMBOK® Guide (A Guide to the Project Management Body of Knowledge) is recognized as the worldwide standard in project management. This is confirmed by the fact that more than six million copies are in circulation, starting with the first edition from 1987 to version 6, which was published in 2017.
In dieser Version 6 sind auch agile Konzepte integriert, da diese heutzutage ein wichtiger Bestandteil unserer Projektumgebungen sind. Der "Guide" ist im Original jedoch recht umfangreich, und deshalb bieten wir mit dieser Taschenbuchausgabe eine leichter zugängliche und verkürzte Version an, um einem breiteren Publikum einen einfacheren Zugang zu ermöglichen. Das wirklich Neue an dieser sechsten Ausgabe im Vergleich zu früheren Ausgaben ist, dass neben einigen kleineren Updates jeder PM-Aspekt – genannt Wissensbereich – nun einen Abschnitt mit dem Titel Ansätze für agile und adaptive Umgebungen enthält, in dem beschrieben wird, wie diese Praktiken in Ihre Projekte integriert werden können. Außerdem wird mehr Wert auf das strategische und betriebswirtschaftliche Wissen eines Projektleiters gelegt – einschließlich der Diskussion der eher strategischen Dokumente "Business Case" und "Benefit Management Plan" – die unsere Projekte vorantreiben.
Auf organisationsweiter Ebene unterstützt der PMBOK Guide ® einen strukturierten und gut abgestimmten Ansatz für einen Projektlebenszyklus und stellt sicher, dass alle Beteiligten (="Stakeholder") die gleiche Sprache sprechen. Es wird die praktische Anwendung von Projektmanagementprozessen verbessern, wenn diese nun von allen verstanden und konsequent angewendet werden.
Dieses Taschenbuch ist für Projektauftraggeber (Sponsoren), Projektmanager/-leiter und Projektteammitglieder besonders nützlich, da dies die drei Schlüsselrollen sind, die hier unterschieden werden.
Ebenso nützlich ist das Buch für Projektnebenrollen (zum Beispiel für Mitglieder eines Projektmanagementbüros (PMO)). Es unterstützt alle Projektbeteiligten in zweierlei Hinsicht:
Besseres Verständnis ihrer Rolle in Projekten, die auf bewährte Praktiken im Projektmanagement beruhen;

Improve an organization-wide project management approach.
In short: a compact but complete summary of the PMBOK Guide®, for everyone involved in project management